Well, doing this series weekly didn't last very long at all and as a consequence has undergone a subtle name change. As it took 3 weeks to have enough material to post as well. I honestly don't understand how people can work 40 hour working weeks, have a social life, rest, do chores, be in a relationship, exercise AND blog regularly. I take my hat off to you as I certainly struggle to find the time. Considering "January blues" are a thing, I've had a very fun-filled and happy January. Here's what I've been up to: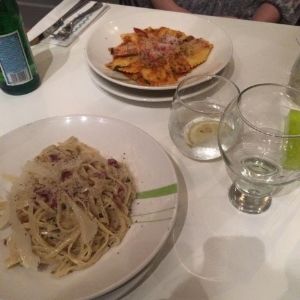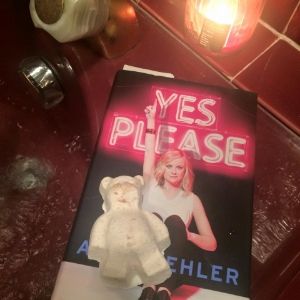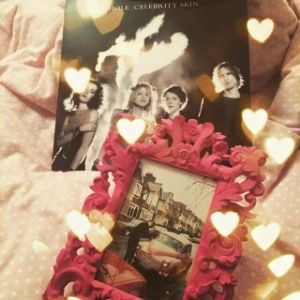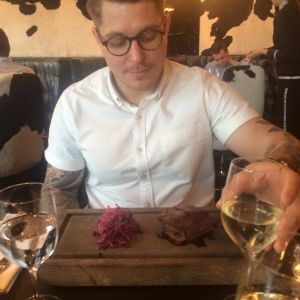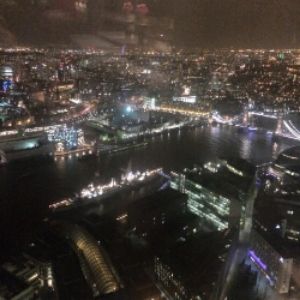 1) Caught up with one of my best friends, over wine and pasta, naturally. I love Italian food and since I started working just a 2 minute walk from an Ask? restaurant, I seem to be paying them a visit pretty frequently.
2) First read of the year 2015 was a good choice. I won't say any more as I plan to review Amy Poehler's "Yes Please" in the near future. The bath bomb pictured is a Butter Bear which I made myself at the
Lush Reading's Halloween and Christmas blog event
. Also, just 5 more days of this hideous bath before my very own white one!
3)Atterley Road clothing brand asked their followers to post a photo of the women that inspire them. I decided to take my photo of my Hole vinyl (a chance to show off one of my favourite Christmas present) as I've been a massive fan of Courtney Love since I was 12. She's always inspired me with her lyrics, battles with her demons and ofcourse her take-no-shit attitude which I found to be of great help as I grew up. The other lady is my wonderful mother, posing with the car my father gave her. My mum was a kind, generous, happy and very brave lady. I wish I was more like her and miss her every day. You can share your inspirations too using the hashtag #ARWoman.
5) As his Christmas present, I took my boyfriend away for a night in London. First, we went for lunch at Gaucho, quite rightly famous for their steaks. On reading the menu, the waitress came over with a board showing each cut of meat and explaining what you can expect from each and recommending how to have them cooked. For starter, I had empanadas as I practically lived on them whilst travelling South America. They weren't very authentic and quite dry but the main more than made up for it. I'm not a massive steak fan but this one was incredible tasting and we finished it off with dulce de leche cheesecake.
6) Next on the agenda for the Christmas treat was a trip up the Shard. We had half an hour to kill before our slot from the viewing gallery and ended up in the Gong Bar. There's a minimum spend of £30 a head so we ended up trying to glug down 2, particularly large glasses of champagne in quick succession. However, we were lucky enough to get window seats which was amazing. Due to this we were a bit late to the view at the top and with tickets to see Ghost Stories theatre show had to dash off, having only spent about 15-20 minutes up there. Luckily, we are cute/gross/know each other and when I gave Juan the Shard tickets he told me he'd already booked it for Valentines Day so we'll get a chance to check it out for longer.
8) The following Friday I was home alone - a somewhat rare occurence so treated myself with a bowl of pasta, a cosmo cocktail and finished series one of Orange Is The New Black. I can't say I get the hype but bet I end up watching series 2 anyway.
Other fun stuff not pictured:
+ My taxidermy class! I received it for Christmas and although my rat's physique is questionable, I really enjoyed it and found it fascinating.
+ Received my Limecrime Velvetines in the post. Reviews of Salem and Red Velvet coming soon.
+Slipknot and Korn at Wembley. 2 bands I've loved since I was at school, friends and too much wine. What could possibly go wrong?
All in all, January has been amazing! What have you been up to this month? Follow me on Instagram for regular photo updates.



Bloglovin / Instagram / Twitter