This time last year, I made a list of upcoming movie releases I wanted to see. Although I didn't watch even half of those, I did pay a few visits to the cinema and here are some of 2014's best offerings:
Source
Her:
Strictly speaking a 2013 release, but I loved it too much to not include it. Joaquin Phoenix is incredible as he plays the character of Theodore, a letter writer who falls in love with his computer system provider (Scarlett Johansson). Sound laughable? Maybe. But for me, this was a real thought provoker, lauching the viewer into the future and explores relationships - with people and technology. Sound laughable? Maybe, but in fact alarmingly, comes across all too believable.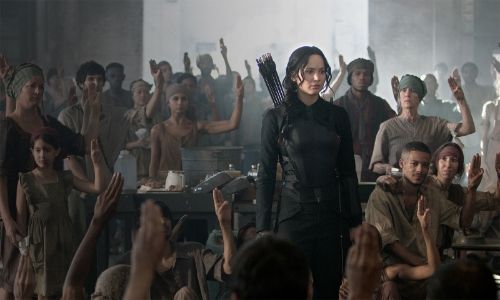 Source
The Hunger Games: Mockingjay Part 1:
The third quarter of The Hunger Games was satisfying to watch as the new district appearing so similar to my imagination. Probably the least popular with most thus far but to me, consistent with it's outlandish costumes, predecessors and complete with abrupt cliffhanger ending that leaves the viewing pining for November already.
Source
Guardians of the Galaxy:
My favourite Marvel film. An interesting mix of cast members - Bradley Cooper as Rocket the racoon, Chris Pratt is Peter Quill and ofcourse Vin Diesel is the adorable tree Groot (I'd LOVE to know how much he got paid for repeating the same three words through out the film). What I loved about this movie was it focussed more heavily on comedy than action and fighting, a great one for the whole family.
Source
The Grand Budapest Hotel:
Another feel good film from the King of indie film, Wes Anderson. I love the use of colour (pink and teal are my dream combination) and all star line up - Jude Law, Edward Norton, Ralph Fiennes, and ofcourse, the legendary Bill Murray in this humorous Golden Globe Winner.
Source
Maleficent:
Maleficent was the motion picture highlight of the year for me. Dodgy accents from various corners of the British Isles aside, this was genius. Angelina Jolie as the lead role is unbelievably powerful and breathtaking, the make up (those cheekbones) outstanding, the beautiful scenery and the dreamy soundtrack, courtesy of Lana Del Rey. A fabulous alternative to the classic "Sleeping Beauty".
Runner Up - The Fault In Our Stars

Bloglovin / Instagram / Twitter